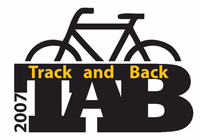 Cycling Fans:
This event sounds fantastic! The ride is called the "Track and Back" and begins at El Bait Shop bar and grill down on 2nd St. (next to the High Life Lounge...so I'm told...ahem.) and goes out to Newton. More specifically, it goes INTO IOWA SPEEDWAY where you'll do laps around the track! They will be taking photos of you racing around the track and in the winner's circle holding up your bike like you've just won the Tour de Iowa.
The official scoop is here. You can do the full century ride of 100 miles or simply start out at the speedway and head back into downtown for a 50 miler. This event raises money for the Boys & Girls Club of Central Iowa and will offer pre-ride carb loading food, post ride BBQ hosted by El Bait Shop, and sag wagon service along the way, etc.
Please let me know if you'll be doing this ride so we can enjoy some time chatting along the way!
The first round upon returning to El Bait Shop is on me.