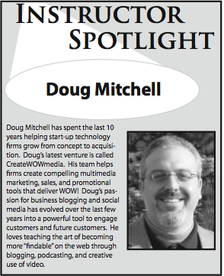 The West Des Moines Community Schools/Community Education class catalog is going into the Des Moines Register on Sunday, the 31st of August. It's also going home with your kids in WDM Schools this week (we got ours today).
You can get a complete PDF of the class listings by clicking here
If you'd like to join their mailing list to get class schedules emailed to you 3x per year, click here.
On page 5 of the class listing, you'll find "Blogging For Business" along with an "Instructor Spotlight" on your humble author.
The class is 4 weeks and costs a mere $39!
The class begins on September 24 and ends on October 15.
The class runs from 6:30PM-8:30PM each time
The class will have guest speakers and lots of Q&A.
The class will NOT use any paper, but will use a collaboration workspace to share and communicate.
The class is offered at Indian Hills Jr. High, 9401 Indian Hills Drive, Clive
If you have specific questions, please let me know. Please send this on to any business leader, friend, or colleague you have that is interested in learning the basics about blogging for business. The class will be fun, provocative, and exciting every step of the way...especially when talking about RSS feeds ;) Just kidding.
Sign up fast to reserve your spot. I think this class is going to be a hot one!